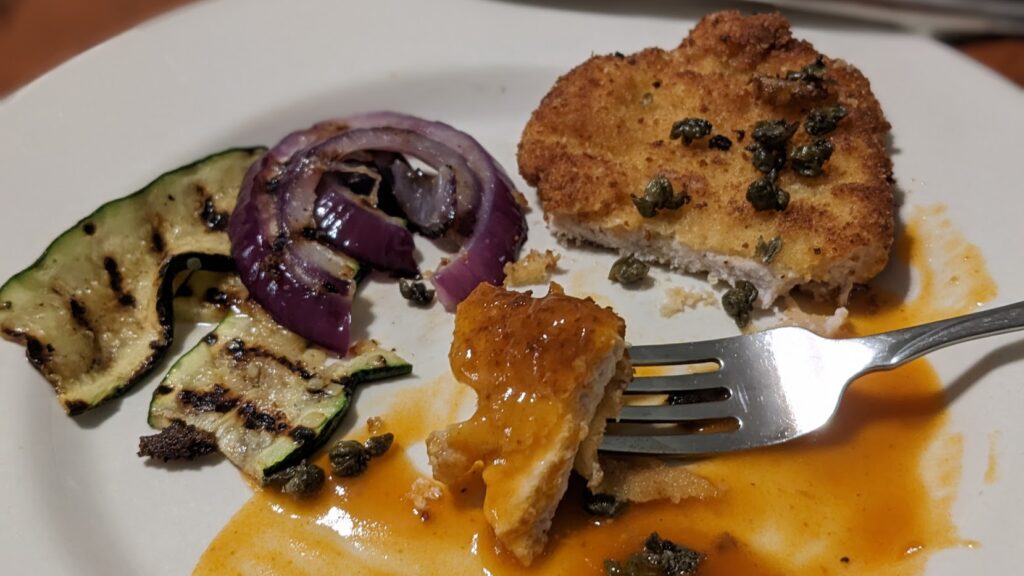 [This entry is cross posted at ordinary-times.com]
"Outside Italy, these are known as 'Viennese chops' (Wiener schnitzel). It is difficult to know who gave the recipe to whom; Lombardy was in fact under Austrian domination for a long period."
– The Complete Italy: The Beautiful Cookbook, Patrizia Passigli, Fred Plotkin – Harper Collins
The Italians have cotoletta alla Milanese and the Austrians have Wiener schnitzel. Both are simple dishes of pounded veal, breaded and lightly fried. Both claim that their dish came first and was borrowed by the other.
As evidence of Lombardi origin, the Italians cite a letter written to Emperor Franz Joseph by his aide-de-camp Count Attems extolling a Milanese veal preparation and suggesting the Emperor introduce the recipe at court. The Austrians rightly counter that the letter in which Count Attems mentions the Italian version doesn't exist and that there was never an aide-de-camp from the Attems family attendant to Franz Joseph. They show that the dish existed in Austria as early as the publication of a popular German language cookbook in 1831. Point: Austria.
I get the feeling that the Count Attems letter was a feint by the Italians to force a misstep by the German speakers because once they fixed 1831 as a near enough date of the Austrian version's first appearance, the giggling Italians slapped down a copy of Pietro Verri's History of Milan, published in 1783, which recounts from available records a menu from a feast given at the Basilica Sant'Ambrogio in 1134 featuring lombolos cum panitio which is an obvious ancestor of cotoletta alla Milanese. Point: Italy.
They should probably get a bonus point for going medieval.
Continue reading