[This entry is cross posted at ordinary-times.com]
This week's recipe is an adaptation of an apparent Tuscan comfort food as recorded by a Tuscan-raised food writer who rediscovered the dish in a chic Roman restaurant just as chic restaurants Eternal City wide were bandwagoning as only really innovative and vibrant hot spots can.
The food writer is Giancarlo Caldesi and the cookbook this recipe is taken from is Rome: Centuries in and Italian Kitchen, co-written with his wife, Katie. My copy lists the publishing date as 2015 so given time for writing, editing, art direction, printing, and distribution, I'm guessing the Caldesis ate at Roscioli, the chic Roman restaurant where Giancarlo reacquainted himself with cipolle sotto sale or salt baked onions, in 2012 or 2013.
Brian McCannachie performed a bit on National Lampoon's Radio Hour back in the early 70s called "Quick Canada Quiz." He would pop in and ask a, as the name of the skit implies, quick question about Canada and then later in the show ask the question again and give the answer. I had to look up who voiced it. Until today I thought it was Chevy Chase. What I couldn't find was a direct transcript of one of my favorite suddenly-not-Chevy Chase lines from the quiz, but it was something like "What song was number one on the Canadian pop charts for August of 1971?"
I'm sure I got the year wrong, but anyway, he came back later in the show and asked again. "What song was number one on the Canadian pop charts for August 1971?" Then a beat pause. "I don't know, but I'm willing to bet that whatever it was, it was number one on the U.S. charts six months earlier." Rim shot.
Until relatively recently, if something was the hip and groovy new restaurant dish in any cosmopolitan place, much less Rome, it wouldn't make its way to an Alabama table for, at the very least, never years. We made National Lampoon's Canadians look quick on the uptake. That's changed.
These days we're a restaurant town. It started with one French-trained native's return home in the 80s and now chefs abound. Food & Wine moved their headquarters here. Obviously the internet helps, but we stay on top of food trends these days. Birmingham has become a regional dining destination.
I don't go out all that much anymore but this was a particularly social week. I ate well: affetatti misti with a garden's worth of pickles, ricotta, spring pea, and mint ravioli in butter sauce, possibly the best asparagus I've had in twenty years, and rare to raw tuna Niçoise. There was some wood fired pizza and a ridiculous olive oil lemon cake with blueberry compote too. I dined at two highly regarded Italian centric Mediterranean places but didn't see cipolle sotto sale at either. I hope it's not passe already because I'm very fond of it.
Regular onion dip, that concoction that Lipton started advertising on packages of their powdered French onion soup mix back in 1958 that read something like "Put contents of pouch in sour cream and stir" people think of when you say onion dip, bypassed the former Alabama culinary trend delay by virtue of football snack suitability. We fast track that kind of thing, and for good reason. French onion dip is delicious.
This onion dip is preferable. For starters it presents spectacularly with rich hues of purple and gold wrapped in oven crisped skin. It says rustic no matter what language you speak and it's versatile. I've given the basic recipe below with a few suggested additions towards the end. It isn't "put contents in sour cream and stir" easy, but excepting five to ten minutes, the cooking process involves putting things in the oven and going away.
Cipolle Sotto Sale
2 red onions
2/3 cup grated Parmesan or Romano cheese
an awful lot of salt – I'll explain
Tabasco Sauce or equivalent, to taste
2 tbsps extra virgin olive oil, plus more as needed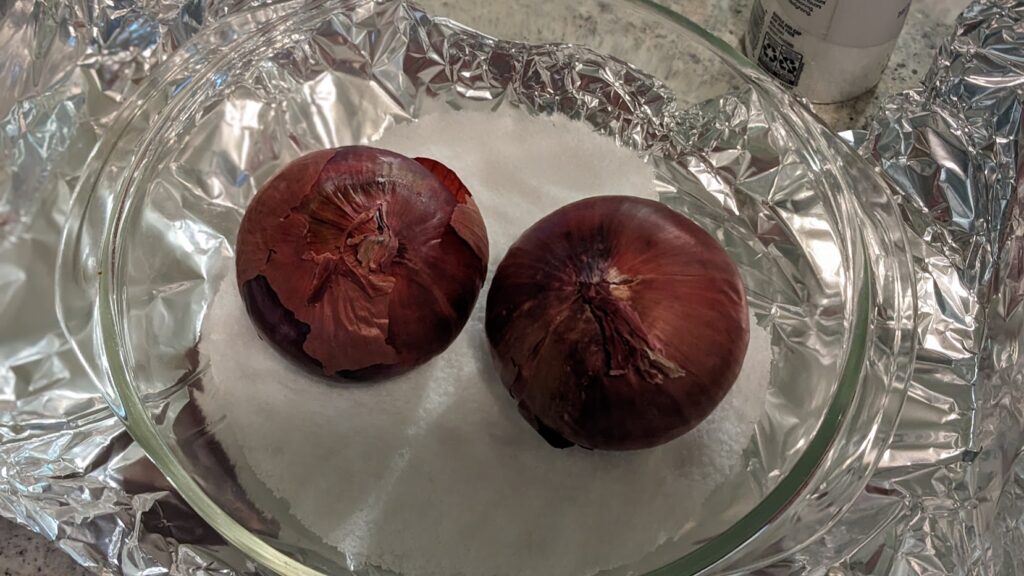 This recipe calls for an awful lot of salt, more than I would assume is necessary. Preheat an oven to 400° and cover the bottom of a Pyrex or similar baking dish with ¼ inch of kosher salt. I plan on one onion per 2 people assuming this is going to be part of a larger hors d'oeuvre spread. The above is directly adjustable if you are cooking for more than four. To avoid wasting salt, don't use a larger baking dish than needed.
I asked a cheffing friend of mine what point this served. Is it necessary at all. He said that salt will distribute the heat more evenly and swore up and down that it makes a difference. I'm still skeptical, but it looks cool so I'm in. If you don't want to cover a pan in salt you don't have to. You might have a lesser result, but you don't have to. Instead make little tin foil nests as stands for your onions.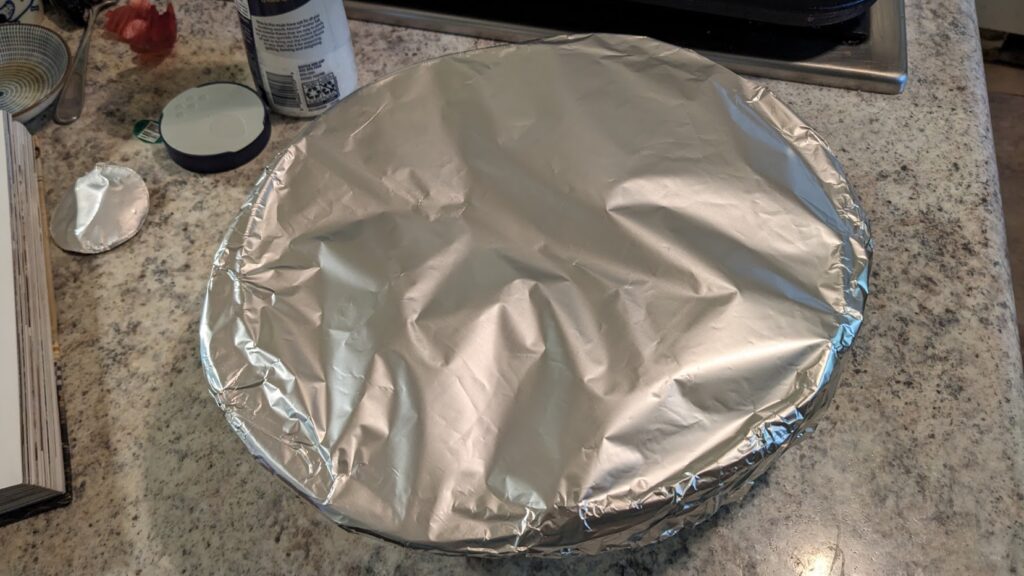 Put the onions in the dish root side down and wrap the lot in tin foil. Bake for 1 hour, remove the foil, and bake for another 30 minutes.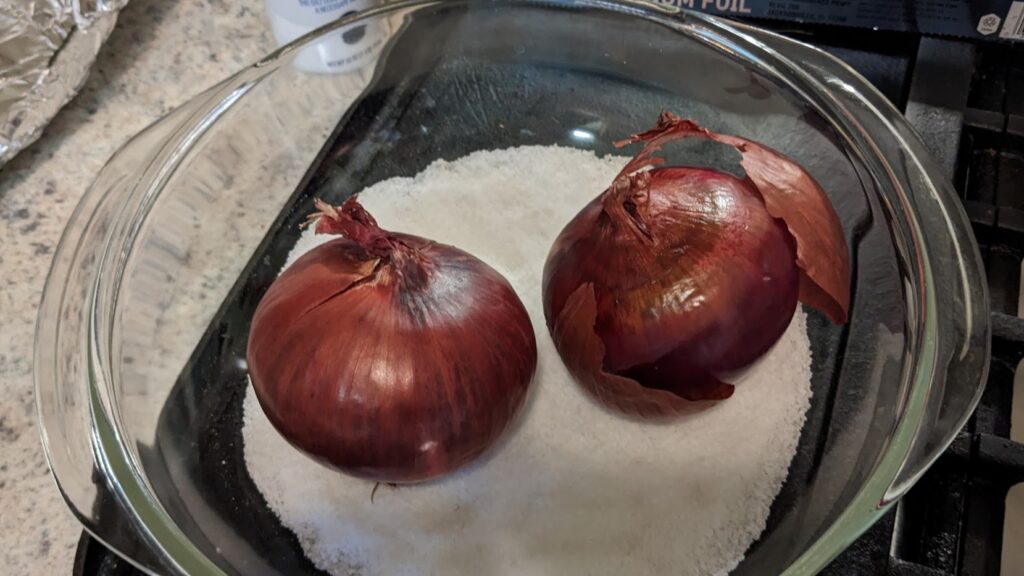 Allow to cool enough for handling – 20 minutes or so – and remove from the bowl. Don't throw the salt out as you'll need it again in a sec.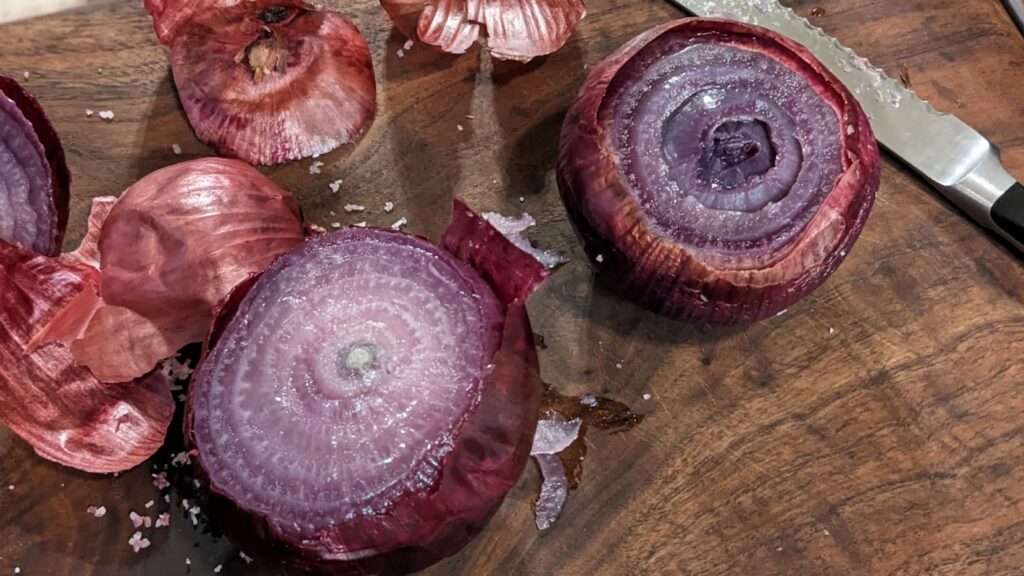 Using a serrated knife, cut off the tops of the onion.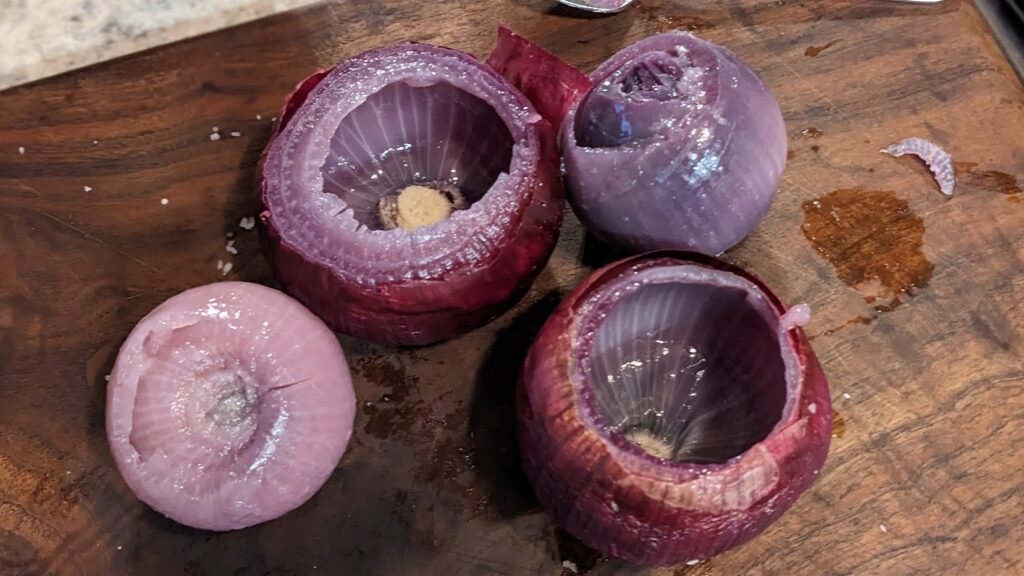 Carefully spoon out all but the outer two layers making little onion bowls. If you accidently pierce the base of one of your bowls, don't worry. Cut a piece from one of the scooped out layers and lay it over the hole as a patch.
In a food processor, puree the onion, Tabasco, cheese, and a few glugs of olive oil. Check for consistency and add olive oil, pulse, check again, etc. Salt to taste.
You can add all manner of things at this stage, so feel free to put in or substitute whatever makes you happy. I had some potent Calabrian pepper-infused olive oil that I bought from the restaurant where I had the ricotta, pea, and mint ravioli and the olive oil cake so I used that in place of regular olive oil and left out the Tabasco. Feta instead of Parmesan with a few kalamata olives and garlic would be amazing. Anchovy, parsley, bacon grease, a bit of raw onion for a sharp contrast to the sweet baked flavor, bell pepper, sweet corn, Italian sausage… all manner of things will work – I suppose even the Lipton's mix.
Spoon the puree into the onion bowls.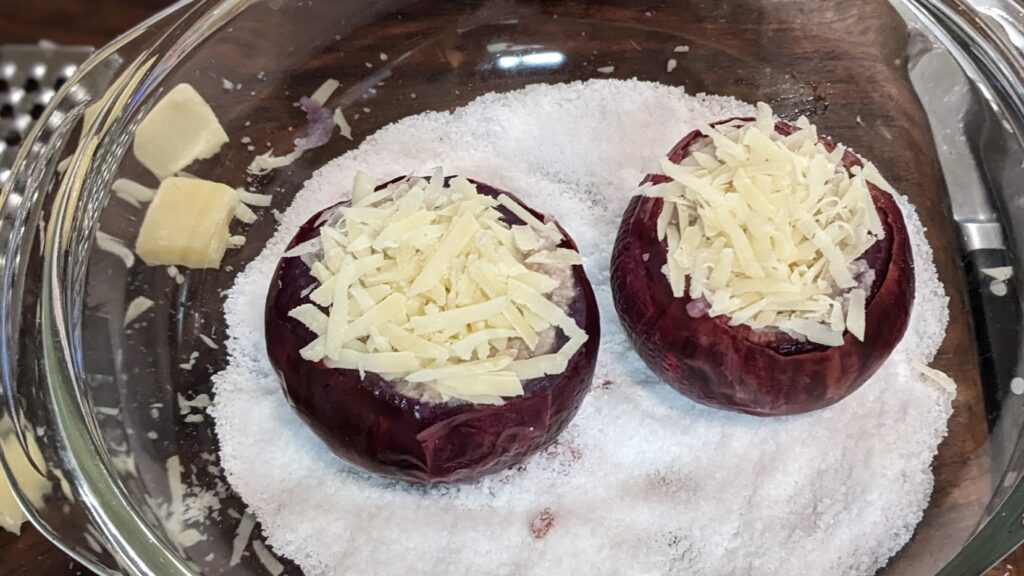 Put them back in the oven for 15 – 20 minutes or until the cheese is melted. If you have a brulee torch a few passes over the top to char the ridges looks nice.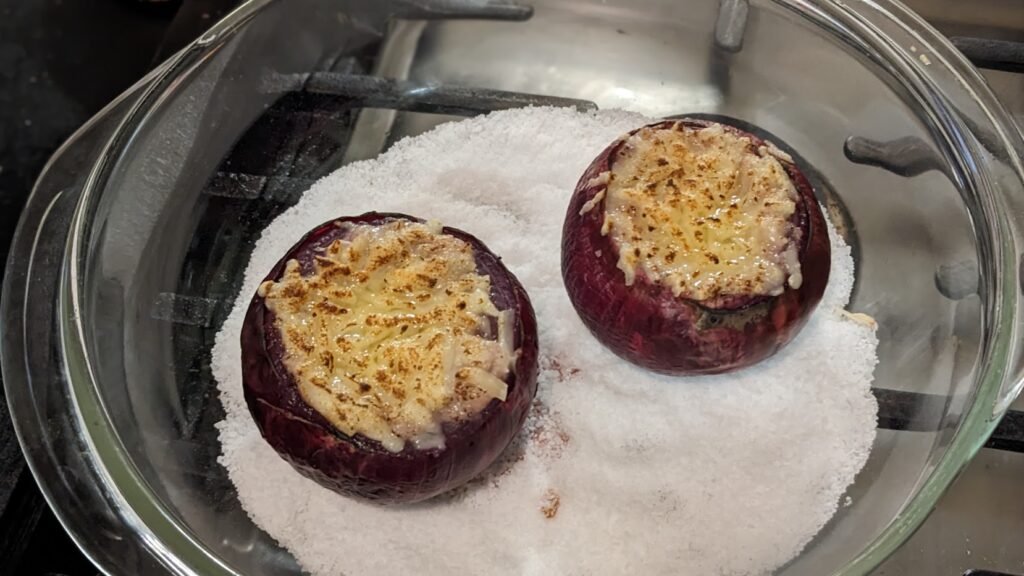 You can serve this with a knife and crackers but I prefer to toast a few slices of sourdough, brushed with olive oil and lightly salted, on a baking sheet in the oven. I cut them into soldiers for dipping straight into the onion.
Enjoy.