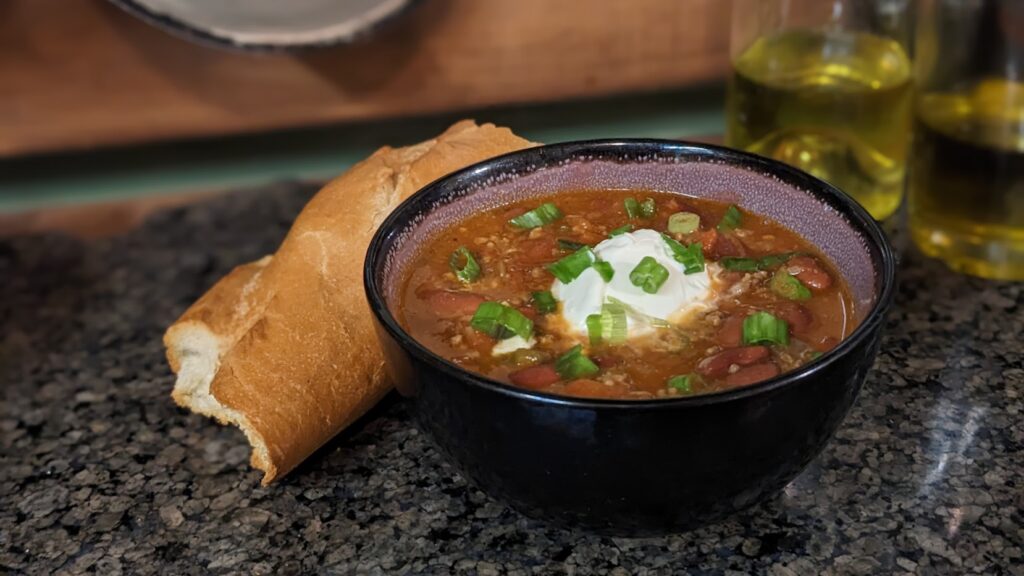 [This entry is cross posted at ordinary-times.com]
All of this is true.
I don't live in Austin. I don't live in San Antonio, Houston, El Paso, or Amarillo. I don't even live in Texas. In fact, I hate the Dallas Cowboys in that sports sense of hate where I'm sure they're a bunch of good guys but want them to fail miserably at their job and still snicker over their veteran heavy team getting beaten by a bunch of Redskin scabs back in '87. Otherwise, I love the place. I've been to the Lone Star State three times so far and have yet to meet a Texan I didn't like.
I had chili in Austin, sort of. There was a fenced-in area with food trucks and a sultry twenty-something woman who was barely wearing any clothes. My then eight-year-old asked her if he could pet her dog several times. I was there for chili because that is, to an outsider, the mythopoetic foodstuff of the town. I'm still not sure if Austin chili is all they say because I was told I had to have it the local way, which I'm pretty sure meant the hipster way. I had Frito Pie, which means I had a bag of Fritos with some chili poured in and shredded cheddar sprinkled on top. It was great, but between the chips and cheese I couldn't tell you what was distinctive about the chili. I'd rather have had it unadulterated.
If my travels and Guy Fieri have taught me anything it's that Texans think they know chili, but really the state is populated by ribbon whores. Everyplace with a health department score and a chalk board is home to award winning best in the state county fair champion three years running five alarm homemade as seen on tv (television) genuine original Texas chili. Everybody gets a trophy in this culinary little league.
I live in Birmingham. We have one city-wide chili cookoff. One. That means one winner. One champion. And my friend who owns a restaurant is one of the judges.
He's not a judge because his restaurant makes great chili. It's a pizza place. He's a judge because he's been a longtime supporter of the Exceptional Foundation [link], an organization dedicated to providing recreational opportunities to those with special needs, and so the Exceptional Foundation asked him to judge the Exceptional Foundation Chili Cook-Off. It's a great fundraiser. There were 137 entrants this year and attendance was over 11,500. As one of three final judges, my friend is a de facto local authority.
This brings me to my own chili and the recipe below. I've never entered the cook-off myself. The contestants don't just have to have enough samples for thousands, they have to have a bunch of those tiny paper dentist rinse cups for serving them and they have to get to the site around four in the morning to start cooking. I'm a night owl. To get there that early I'd have to wake up before I went to bed so no thank you. Besides, even though the tasting is blind, when I won people would say "Hey, isn't he friends with the pizza guy?" and assume there were shenanigans.
I would hold up my friend's opinion of my chili against any Texan's because he's a recognized member of a triumvirate whose opinions hold sway unchallenged over a metropolitan area where a Texan is a voice in a cacophonous choir.
Now, my friend has never tried my chili, but hold.
A month ago, I asked him if he could get me in as a judge for next year's event and he said he'd see what he could do. So, but for a technicality, I'm practically a judge myself. Via the transitive property, though Texas may be renowned for its chili, I hold a more eminent opinion than any of that state's promiscuous tasters. I say mine is the best. Who you gonna trust?
Chili with Szechuan Pepper
1 – 1 ½ lbs ground chuck
2 28 oz. cans whole plum tomatoes with their juices, torn by hand
2 15.5 oz. cans light red kidney beans, drained of liquor
2 12 oz. cans cheap lager
1 yellow onion, diced
3-4 cloves garlic, minced
1 jalapeno, diced
2 tbsps. cumin
2 tsps. chili powder
1 tbsp. oregano
1 tsp. coriander
handful dried Szechuan peppers
salt and pepper to taste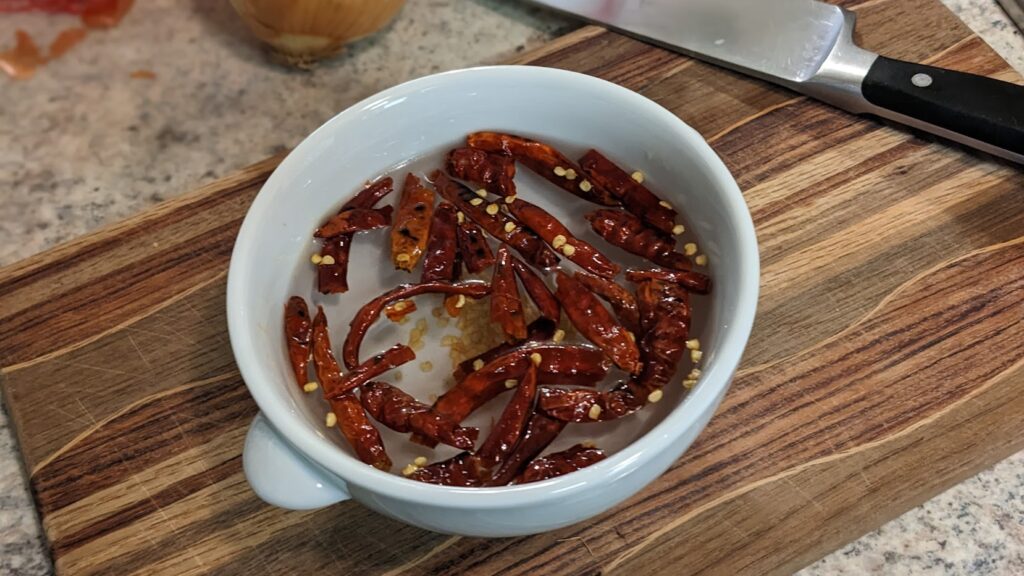 First, put water in a cereal bowl. I didn't measure, but a typical bowl holds about 1 ½ cups of liquid. Fill it just enough that you'd walk carefully if you had to carry it across the room. Break up the dried chilis and add them to the water. You want them to soak for at least an hour. I've never let a cold stock like this go longer than two hours but that was because I was ready to use it rather than because of any knowledge of food safety concerns. I can't give you an upper time limit. Let's just say no more than three hours and consider ourselves safe. It's dried chili and water.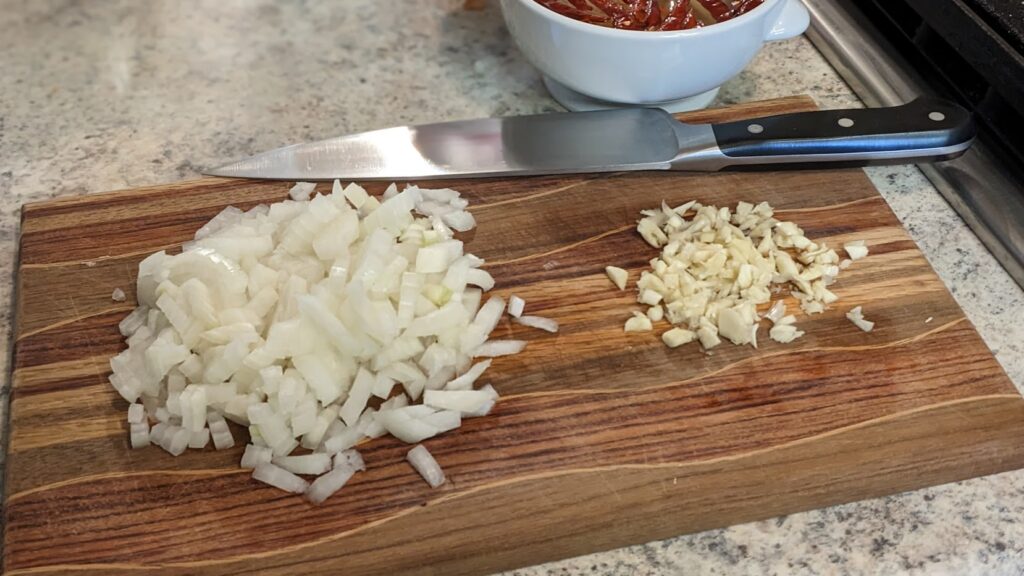 Add a few glugs of olive oil to a Dutch oven or big stock pot and set the heat at medium-high. Add the onions and sweat them until they're aromatic – about a minute – and then add the jalapeno and cook for an additional two minutes until the onion is translucent and the jalapeno fades in color. You might notice the lack of jalapenos in a few of this entry's pictures but that's because I was watching season seven of Endeavour while I cooked and I had a Towpath Killer theory and had to rewind and check a few things. My theory didn't work out but it did distract me enough to be forgetful. I didn't realize that I'd left something out until everything was almost ready. If that ever happens to you with a sauteed ingredient, don't panic. You can't go back in time, but you can do the next best thing and saute it individually to wake up flavors before adding it to the pot. Include the seeds, left raw, if you like.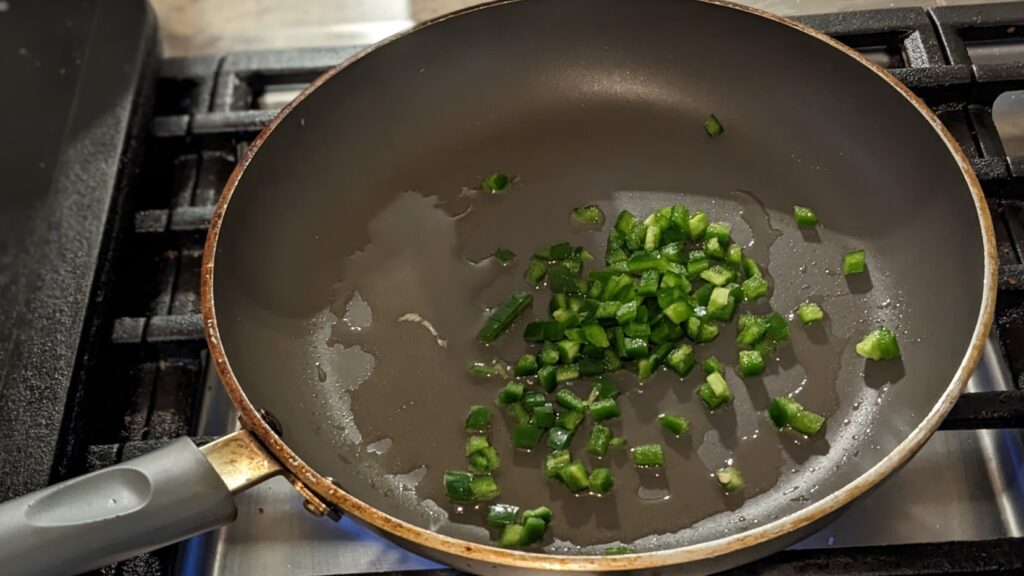 This is particularly helpful if you know that most of your pictures feature warm colors and you want to break up the monotony of the composition with a flash of something bold to contrast.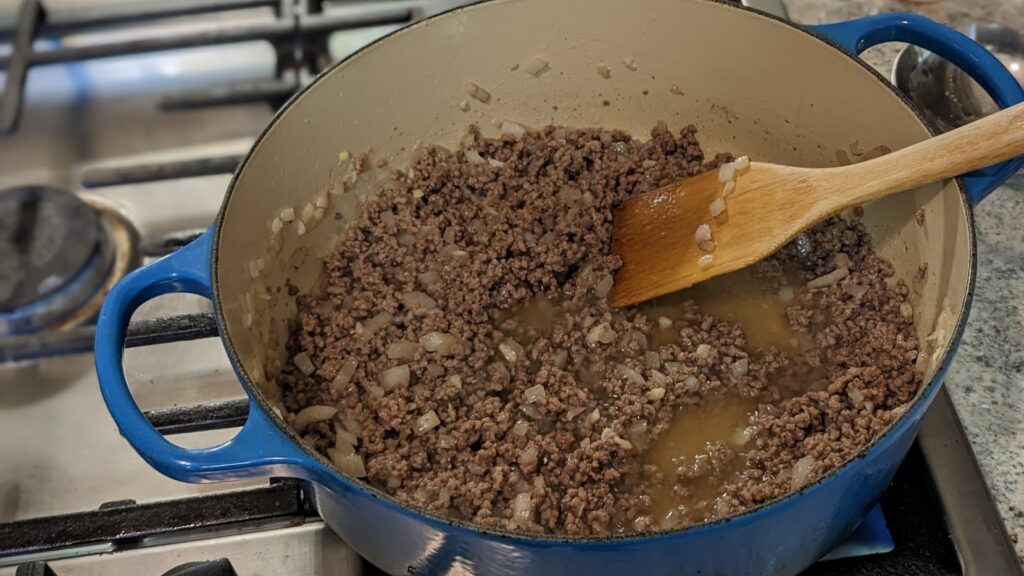 When the onion and jalapeno are properly less substantial and faded, add garlic, wait a minute, and add the ground chuck with a bit of salt and brown.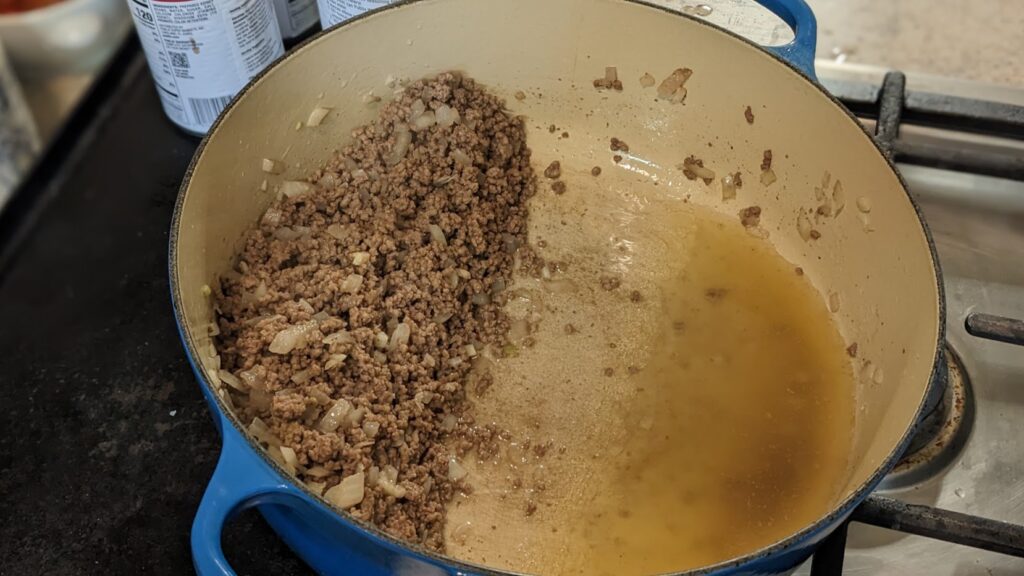 I use fattier beef because vegetables soak up that goodness and the whole is richer for it, but I don't like little puddles of the stuff floating on the surface, so take everything off the heat, tilt the pan, and soak up as much of the rendered fat as possible with a few paper towels.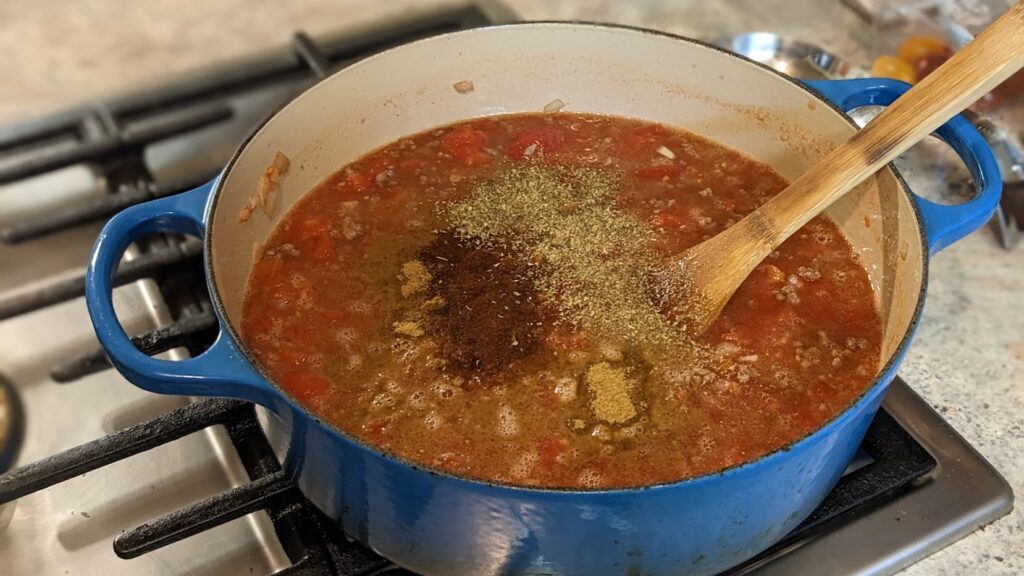 Return the pan to medium-high heat and add the beer. Let the alcohol cook off for five minutes or so and add the torn up tomatoes with their juices, the beans, chili powder, oregano, and coriander. Add the cumin too but realize that I recommend a lot of it. You may want to add half, let it go for a bit, taste, and add more as you go. I think that's a mistake (and remember, I'm almost a recognized authority,) but it's your chili and subject to cumin deficiency if you decide that's the right course.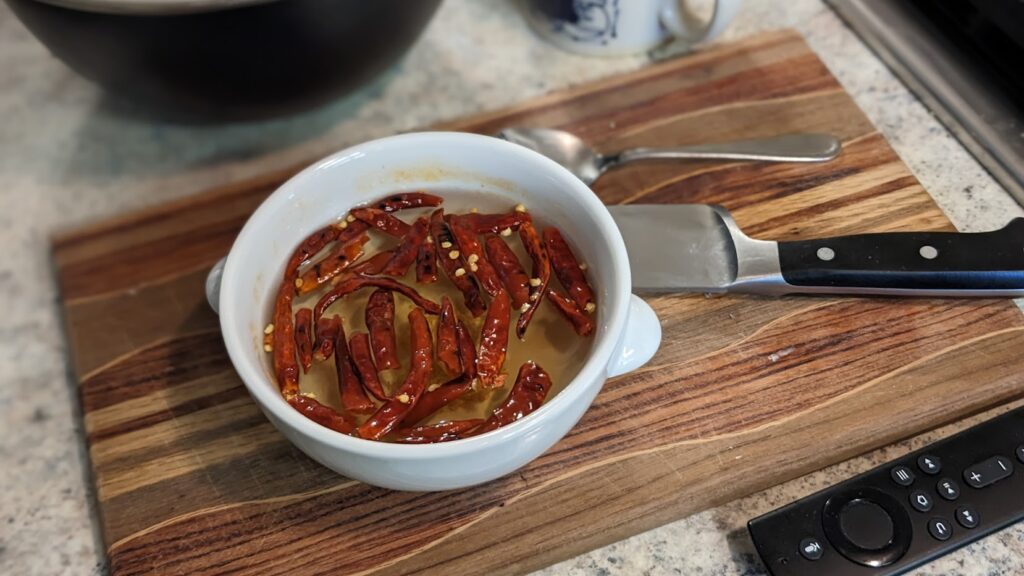 After an hour the chili water from the first step should have an amber tint to it. A taste will give slight heat up front but then a lingering burn. It'll pair nicely with the upfront spiciness of the jalapeno seeds, if you used them.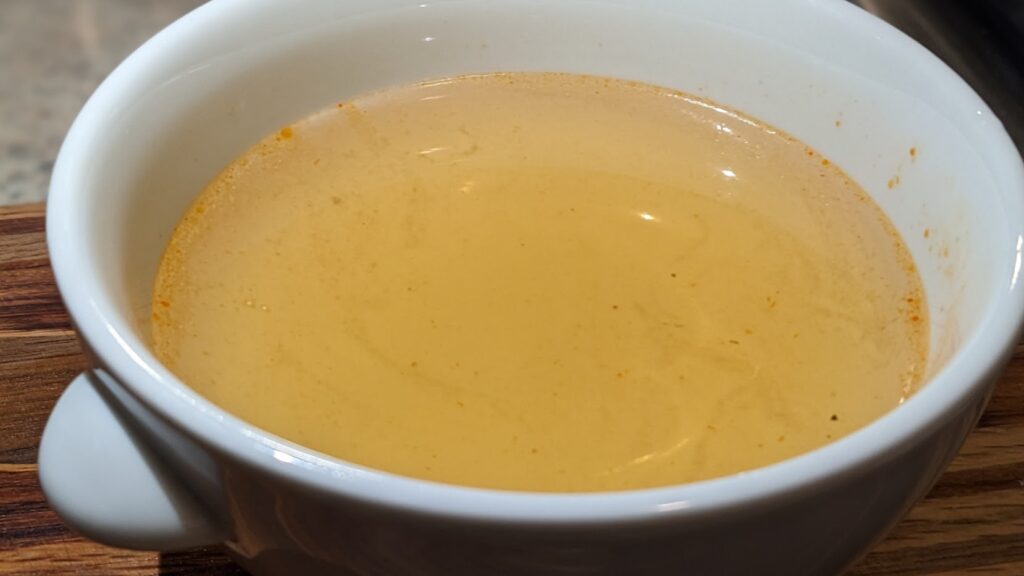 Strain the liquid and add it to the chili – as with all things you can add half and taste, add more, taste, etc. Bring to a boil, reduce to low heat, and simmer for thirty minutes.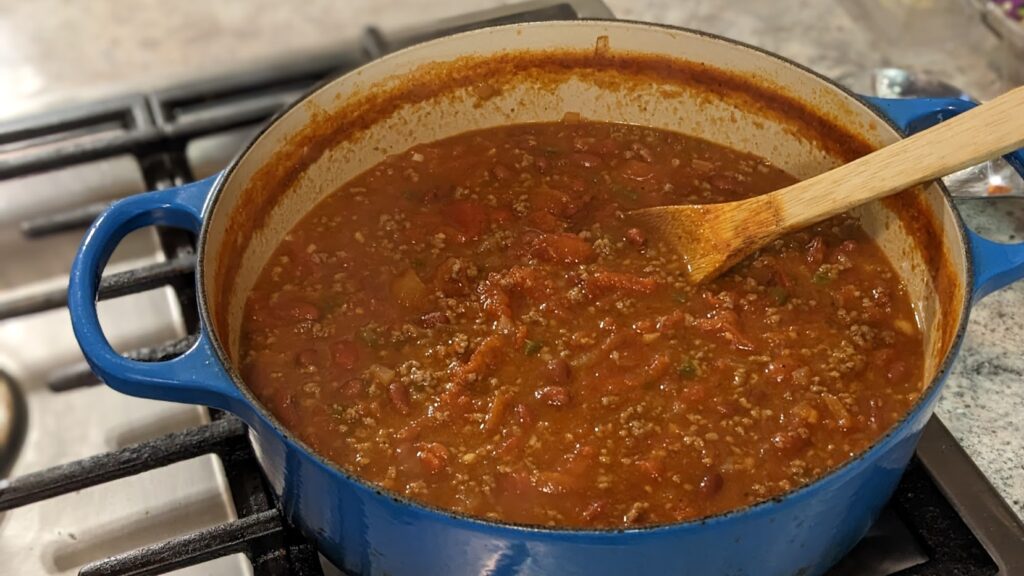 Correct for salt and pepper and you're done.
We had it with crème fraiche, green onion, and crusty bread, but there's the panoply of grated cheese, oyster crackers, raw red onion, etc. available to you. Choose your champion and enjoy.