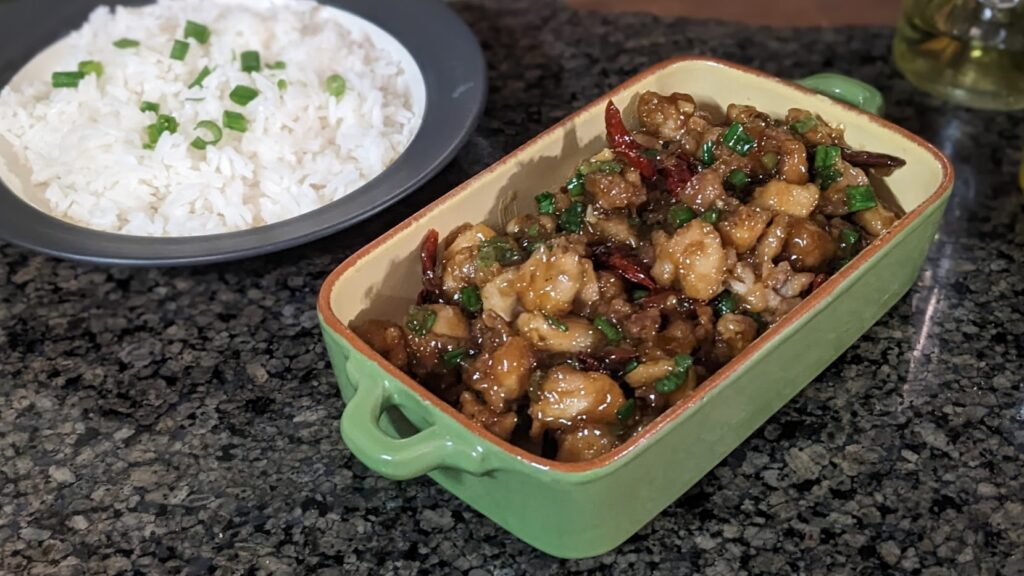 [This entry is cross posted at ordinary-times.com]
A: On the wall of the shop was a piece of paper, and at the top it said "NOTICE TO ALL CUSTOMERS."
B: What did it say?
A: It said: "All revolutionary comrades who come in the revolutionary door of this revolutionary photography shop, before asking any revolutionary question, must first call out a revolutionary slogan. If any of the revolutionary masses do not call out a revolutionary slogan, then the revolutionary shopkeeper will take a revolutionary attitude and refuse to give a revolutionary response. Revolutionarily yours, the revolutionary management."
B: Really "revolutionary", all right. It was like that in those days. As soon as you went into the shop it went like this: "Serve the People!" Comrade, I'd like to ask a question.
A: "Struggle Against Selfishness and Criticize Revisionism!" Go ahead.
B: [to the audience] Well, at least he didn't ignore me. [Back in character] "Destroy Capitalism and Elevate the Proletariat!" I'd like to have my picture taken.
A: "Do Away with the Private and Establish the Public!" What size?
B: "The Revolution is Without Fault!" A three-inch photo.
A: "Rebellion is Justified!" Okay, please give me the money.
B: "Politics First and Foremost!" How much?
A: "Strive for Immediate Results!" One yuan three mao.
B: "Criticize Reactionary Authorities!" Here's the money.
A: "Oppose Rule by Money!" Here's your receipt.
B: "Sweep Away Class Enemies of All Kinds!" Thank you.
That's a from a bit of xiangsheng written by Jiang Kun called "How to Take a Photograph." Xiangsheng is a form of Chinese comedy theater that, as far as I can tell, is an Eastern cousin of the straight man/comic skits of the Abbott and Costello style vaudeville acts. I was looking for a sketch by Wu Zhaonan but couldn't find a transcript or video of his act anywhere. His DVDs are for sale and pretty easy to find, but if you just wanted to see a clip to get an idea of what he did, you're out of luck. Where's all that Chinese entertainment piracy floated all about the black market when you need it?
I don't know if Wu was the Abbot or the Costello when he was on stage. From what I've read I doubt he was the straight man which is frustrating because there's hay to be made with "Wu's on first." After making his name on radio and stage in Taiwan he moved to Los Angeles in 1973. He continued performing xiangsheng and Peking opera in the United States where he was awarded the Lifetime Artistic Achievement Award from The Lincoln Center. In Taiwan he was given the Outstanding Artist of Asia Award as well as the Golden Melody Award and was officially recognized as a national treasure.
In 1949 the CCP managed to do the undoable and move soldiers up the unclimbable mountain flanking the impregnable gate guarding the unassailable Jianmen Pass and take the Sichuan province and with it Chiang Kai-shek's administrative center at Chengdu. With the Kuomintang in disarray the government of the Republic of China decided to abandon their adventure in the worse and explore the better part of valor in Taiwan, safely away from their mainland troubles. Wu Zhaonan followed suit.
In Taipei, Wu opened a food stall serving a variation on teppanyaki with hinted at but unspecified Korean influences. He wanted to describe his food as "Beijing Barbeque" after his native city but Beijing was the seat of the Peoples Republic of China and he didn't figure the connection would serve him well in his new home. He chose "Mongolian" seemingly out of thin air.
Mongolian barbeque proved very popular. When Wu almost drowned in a typhoon that wrecked his stall he moved on to the entertainment biz. Imitators popped up all over the city to fill the void he left and Mongolian barbeque became a staple on the island. The beef variation travelled particularly well and now demands space on Chinese restaurant menus far and near.
I, like many before me, prefer chicken, mainly because I know that chicken is healthier for me than beef and I'm capable of a degree of self-delusion so profound as to ignore the towering heaps of sugar in the recipe and count myself among the body prudent. That, in a nutshell, is the origin story of Mongolian Chicken.
Mongolian Chicken
1 lb. boneless chicken thighs or breasts
vegetable oil
cornstarch
1 tbsp. ginger, minced
2-3 cloves garlic, minced
1 metric handful dried whole red chilis (optional)
6-8 scallions, chopped and white separated from green
3 tbsps. soy sauce
2 tbsps. brown sugar
1/3 cup chicken stock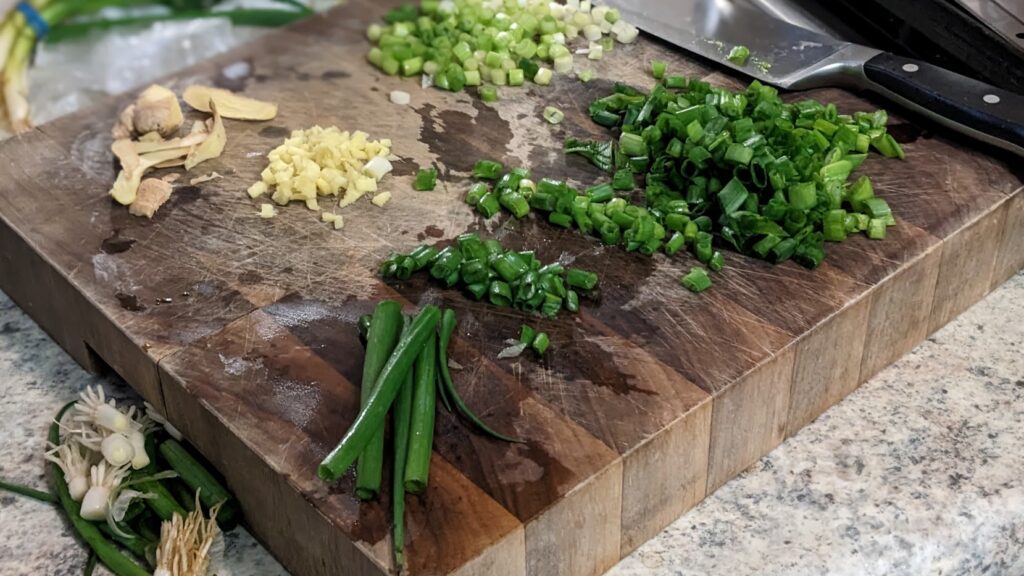 I doubled the recipe when I made it in case you're wondering why the amounts in the pictures don't appear to match the amounts listed above.
Pat the chicken dry with a paper towel or your favorite shirt, cut into bite sized pieces, put in a bowl, and lightly toss with a tbsp. or so of vegetable oil. Add 1/3 cup of cornstarch to the bowl and toss until the chicken is lightly coated. Add more cornstarch if needed.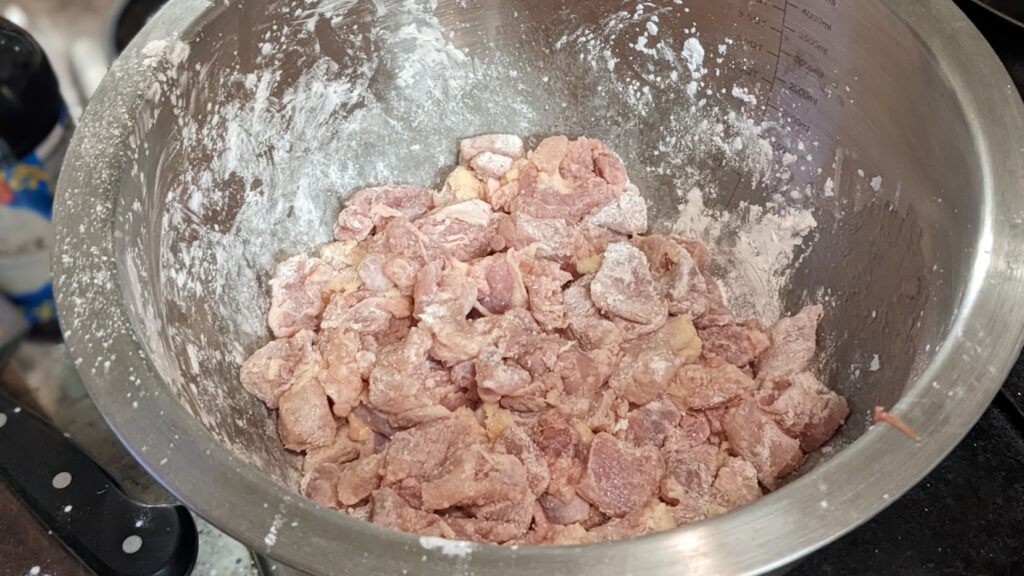 Put 2/3 cups of vegetable oil into a wok over high heat. When the oil shows the first signs of smoke, add the chicken to the wok and spread the pieces out as best you can. Cook for about three minutes and stir before cooking for another three minutes or until all sides are golden brown. Pull a large piece out and cut it in half to check and be sure it's done and depending, keep cooking or remove all the chicken to a paper toweled plate to drain.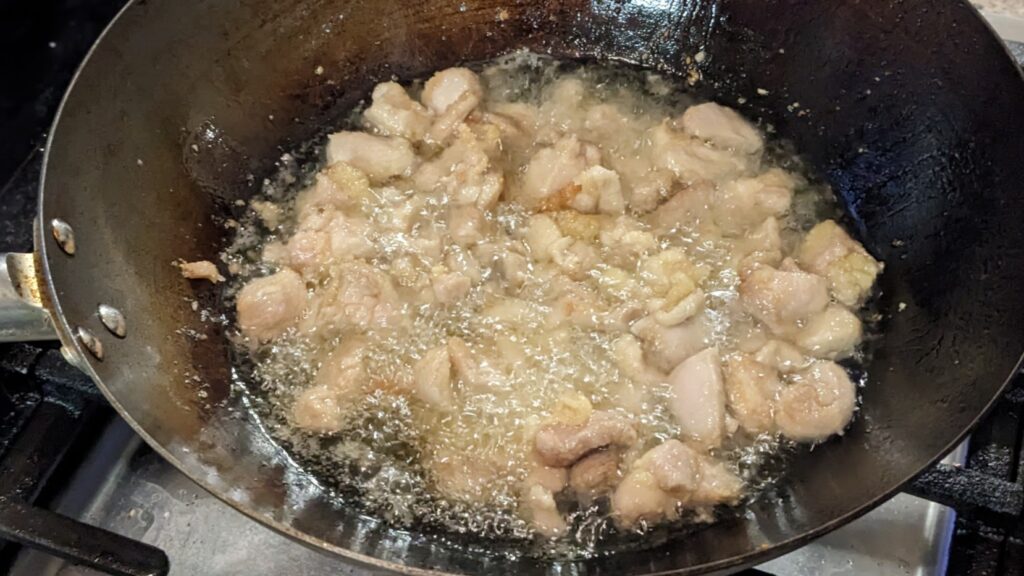 The next part goes quickly, too quickly for one person to both cook and take step by step pictures so use your imagination but keep it family friendly. It's a good idea to have everything premeasured and ready.
Reduce the heat to medium-high and pour off most of the oil from the wok, leaving a couple of teaspoons or so. Add the ginger and allow to cook for 15-20 seconds. If you are using dried chilis be warned that they infuse the sauce readily so tread lightly or bravely regarding the amount depending on your tastes. Add the garlic, chilis, and white scallion slices and cook while stirring for another 15 seconds. You don't want the garlic to burn so add the soy sauce, chicken stock, and then brown sugar and continue stirring until the sugar is completely dissolved. Allow to simmer for 3-4 minutes, still stirring occasionally.
While the sauce is simmering, combine 2 tbsps. cornstarch with one tbsp. water and make a slurry. When the sauce has simmered for the prescribed 3-4 minutes add the slurry and stir until it's uniformly mixed in. The sauce should stick to the back of a spoon. If not, add a bit more slurry and mix.
Turn off the heat. Add the chicken and green parts of the scallions and toss until the chicken is coated. The sauce should be thick enough that there's no liquid left in the wok.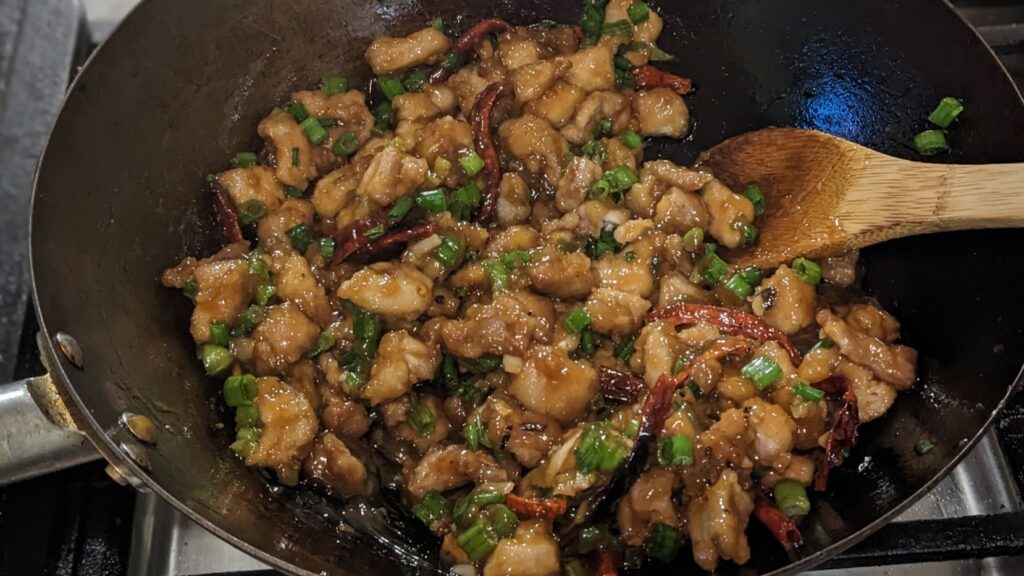 Serve with rice or egg noodles and enjoy.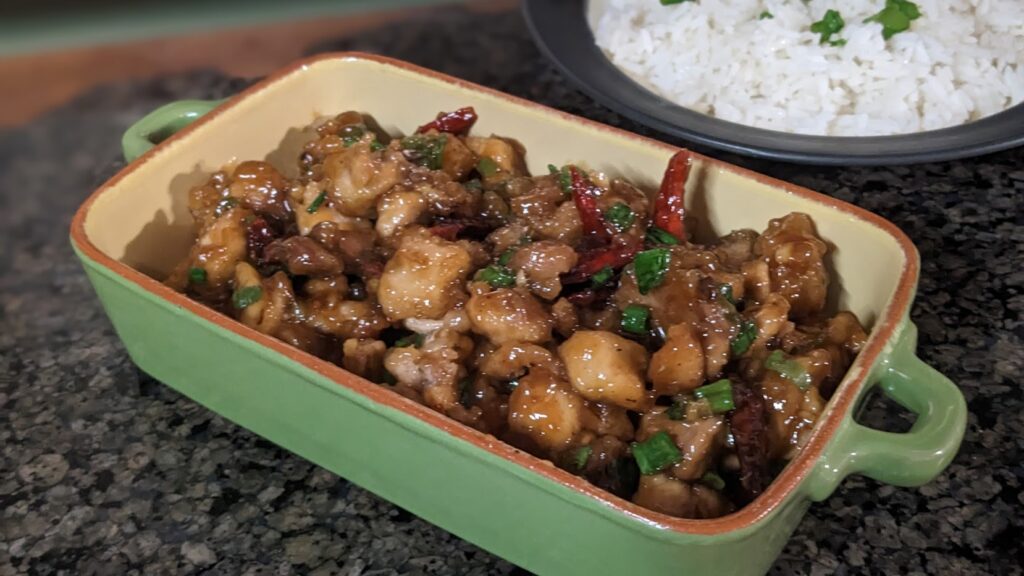 I won't lie. Cleaning up after this dish is an undertaking made all the worse because sticky sugary sauce doesn't just lift right off, but it's worth it.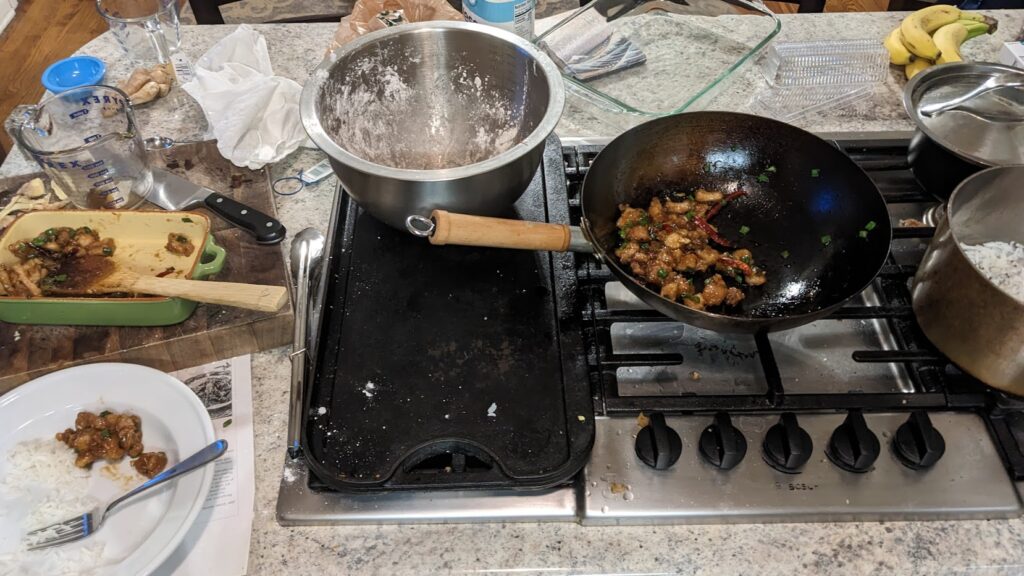 I'm calling Wu Zhaonan back for a curtain call.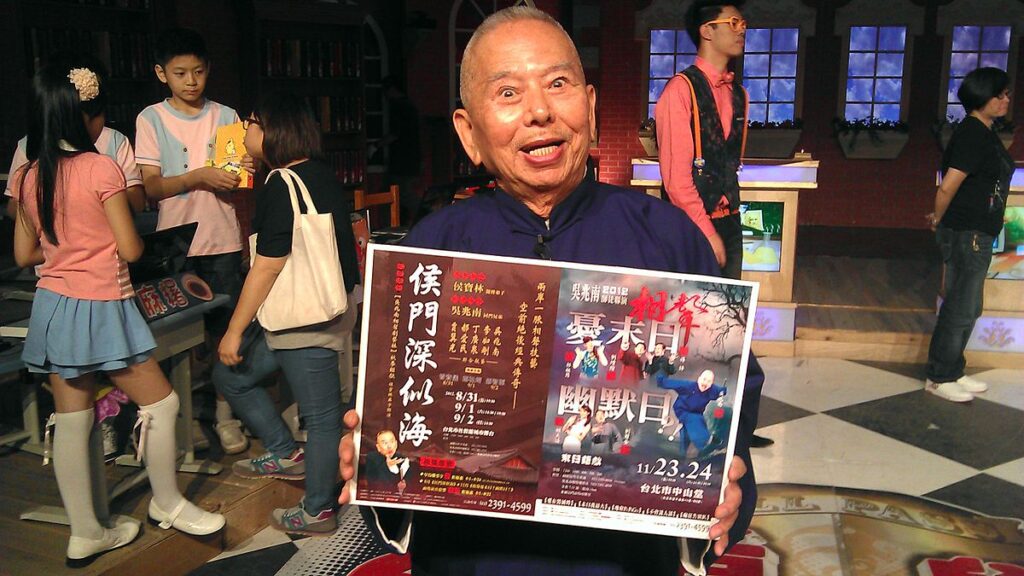 Wu Zhaonan Photo by Jean Havoc