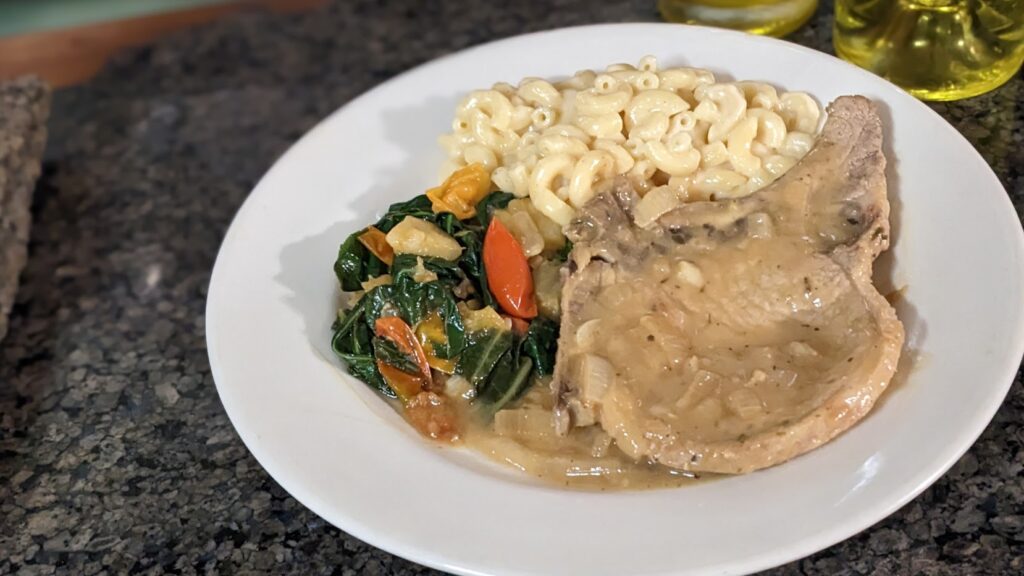 [This entry is cross posted at ordinary-times.com]
I used to work in a restaurant called Elizabeth on 37th in Savannah, Georgia. It was a great place swimming in awards and accolades from all manner of associations but the owners were most proud of their James Beard Awards. If I remember right, when I was there we had a Beard Award for Best Restaurant: Southeast, Best Chef: Southeast, Best Wine Program, and our Chef de Cuisine won the Rising Star recognition. We even got shortlisted for whatever they called the best service in the nation award in 1999 or 2000.
When we got word of that service nomination we looked at the other four restaurants in competition and saw we were up against NY, San Francisco, Dallas, and a second from either NY or San Francisco – it's been a while and I forget. One of the waiters I worked with used to work for the or one of the NY based nominee(s) and said something about them having a $30K a month budget for flowers. We didn't have that. The owner cracked a few bottles of champagne and we paraded through the restaurant chanting "We're number five! We're number five!"
The awards – Beard, Wine Spectator, and others – were hung in the foyer. It was a bit braggadocios but the staff was ready to back up the initial impression. The last time I was there all that stuff had been taken down so as not to distract from the framed pictures of the owners in Oslo, various certificates, and invitations to receptions from when they were nominated for the Nobel Peace Prize by the Dalai Lama. The Savannah crew got to stand on a balcony and were serenaded by masses of Norwegians and feted well. The award went to the European Union that year. One of the owners jokingly brushed it away. "Yeah," he said. "The fix was in."
They never thought they were going to win, but if someone of consequence nominates you for the Nobel Peace Prize and you have the means, why wouldn't you make the trip to Norway? Considering the local buzz they generated they probably could have written it off as an advertising expense.
I'm still not clear on the details but one of the brothers that bought the restaurant from Elizabeth Terry was a regular at the local Savannah Buddhist temple, so when the Dalai Lama visited the monks brought him to the restaurant. They got talking, the Dalai Lama's concerns about a water reclamation issue in India or somewhere came up, and the owners had a fund raising idea. That's about as much as I could get from the falsely modest owners. A few former co-workers told me little more but I got the impression that the false modesty was a new thing and the employees had heard and discussed their fill of the subject.
A huge perk of working at E37 was Saturday night dinner. Each week a member of the kitchen staff was given a fifty dollar budget to feed the staff. Some used their turn to wow us all with something cool and avant garde and some made hit-the-spot burgers with tater tots. There was a lot of in between and we never knew what we were getting until we got. The cooks didn't look on it as extra work. It was time to shine. There was one particular line chef whose turn we all looked forward to.
Her name was likely Chrissie or Christine or something but I don't remember. Her job previous to Elizabeth was at The Lady and Sons, Paula Deen's flagship restaurant. Deen got her start making hot lunches from her home and sending her sons out to sell them door to door in downtown Savannah before opening an official business with licenses and everything, thus the restaurant's name.
The Lady in Sons was supposed to have the best southern comfort food in Georgia. I have no idea. I lived in Savannah for three years and never made it in there. The line was always too long. But if it was anything like what Chrissie/Christine made for us every sixth or seventh Saturday I'd say it has rights to the claim. Wossername made us juicy and crisp fried chicken, Salisbury steaks swimming in onions, black eyed peas in rich pork liquor (we would drink it straight,) and greens that would make you feel bad for using that terrible phrase "make you slap your momma." It was always a great night when she cooked for us. Almost.
One particular Friday she was off her game. She was on apps and everything was coming out slow or worse: piecemeal, with one or two of a table's plates ready four or five minutes before the others. The drum of "Do you have 21 coming?" and "I'm dragging a tarte," and "No, you said two minutes five minutes ago," got to her. She didn't yell. She got quiet. Steaming quiet. But not steaming enough to keep us from asking why the steamed Vidalia stuffed with sausage and thyme wasn't ready yet. She never caught up and our demands never let up. Her ears were radiant crimson.
Eventually, service ended, we cleaned the dining rooms, had a smoke and a cocktail, and went back to see what was for dinner. Chrissie put two platters in the service window, said "Bless all ya'll," and stormed out, but she didn't say "bless."
On one of the platters was unseasoned boiled chicken thighs and on the other was plain white rice. Two things happened that night. First, I tried sriracha for the first time. I'd never had it before. I'd never even heard of it, but one of the non-harassed kitchen guys brought some out and said it saves anything. He was right. Even blah unsalted yardbird aint half bad with a few squirts of sriracha. Second, I decided to branch out from Italian and French stuff and learn how to cook southern staples for myself. My friend Jeffrey, who was working as a waiter but had an impressive CV as a chef, told me it was an easy style to get good at if you had a little patience. Chrissie (sure) led me to believe that I was going to get a plate full of fatty salty meat and vegetables with all the icky vitamins cooked out but she left me high and dry. No more of that.
I never mastered fried chicken. The vegetables came easily. Salisbury steak was a breeze. What I liked best, though, was smothered pork chops in an onion gravy. I stick with the meat and three tradition of using the cheap breakfast style chops but I throw in some white wine and herb de Provence because I'm a snob at heart.
I hope you like this. By itself it's easy to put together and there's enough simmering time to make a few side dishes and have it all come out hot and ready at once which, despite that one night, Chrissie excelled at doing.
Southern Style Smothered Pork Chops
6 breakfast chops
1 large Vidalia onion, sliced
3-4 cloves of garlic, minced
3 tbsp all-purpose flour plus more as needed
1 ½ cups dry white wine
1-2 cups chicken stock
1 tsp herb de Provence or more to taste
pinch red pepper flakes (optional)
salt and pepper to taste
olive oil
Liberally salt both sides of the chops. I don't add pepper yet, but feel free to if that's what you like.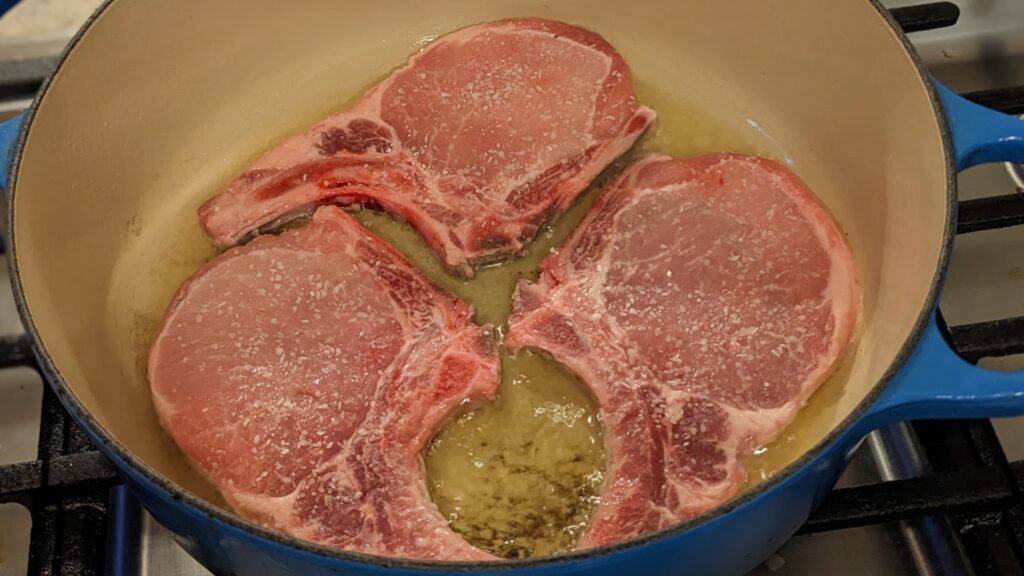 Add a few glugs of olive oil to a Dutch oven or similar pan over medium high heat put in the chops.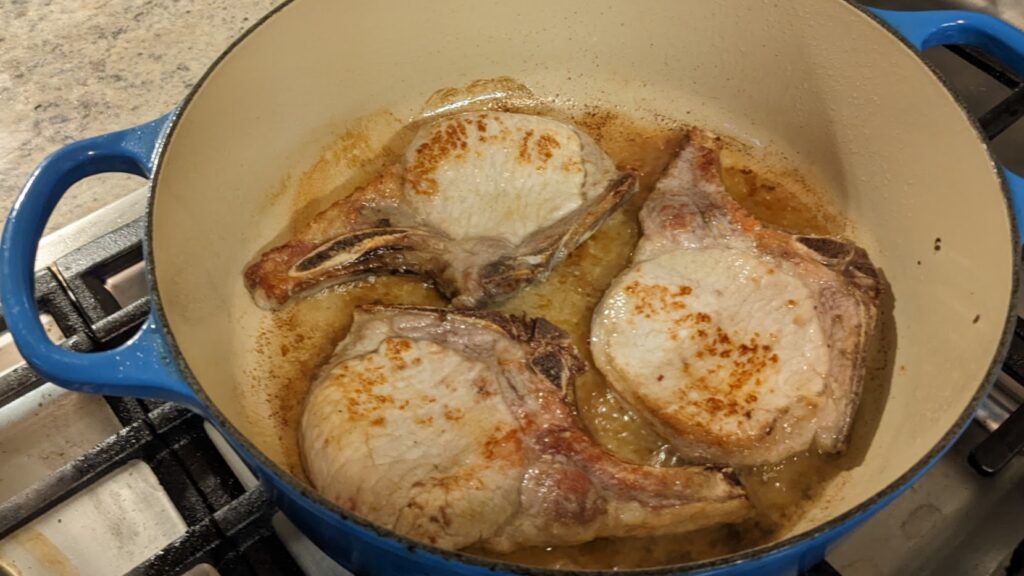 Get a sear on both sides.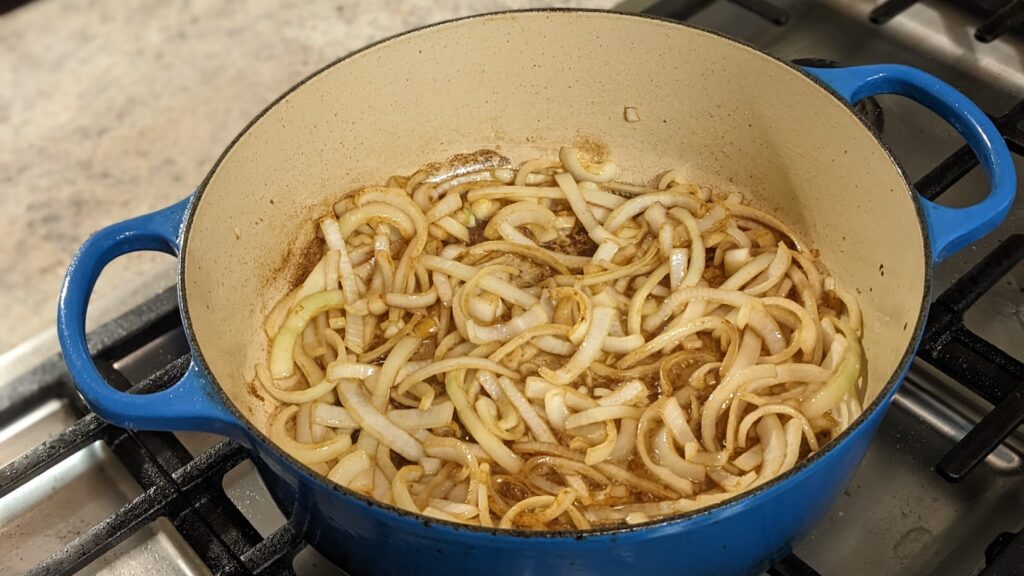 Remove the chops to a plate and set aside. Add the sliced onions and sauté for five or so minutes until they start turn translucent in spots and a few pieces start to brown.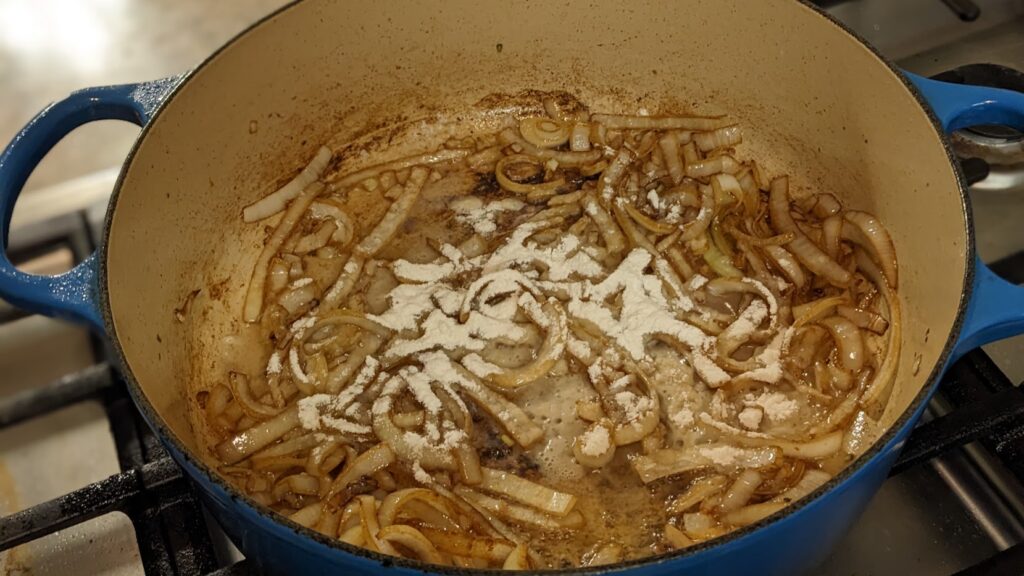 Add 3 tbsp of flour and toss the onions to coat. Cook for three or four minutes more.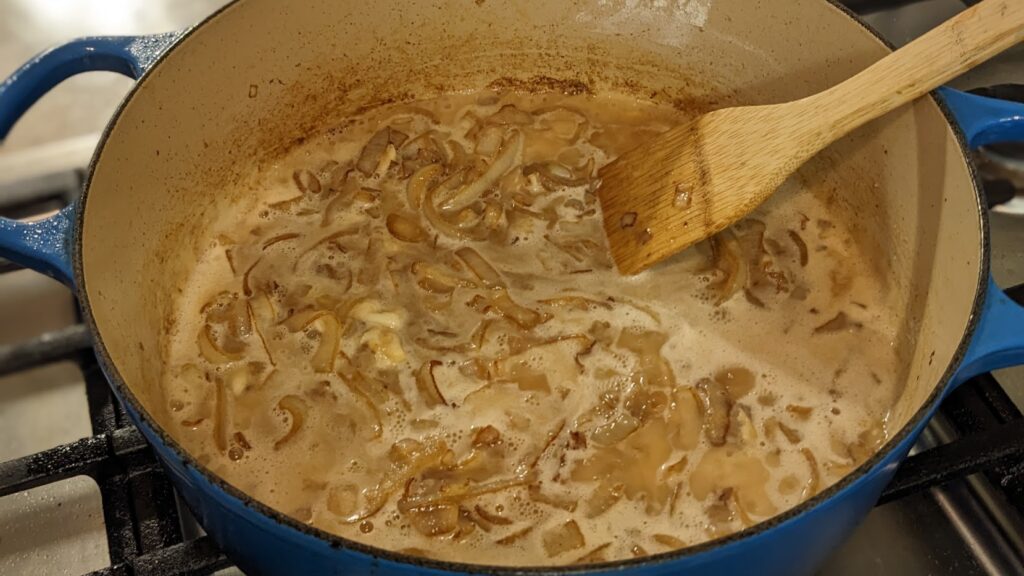 Add the garlic, continue cooking for a minute, and then add the wine and red pepper flakes if you choose to use them.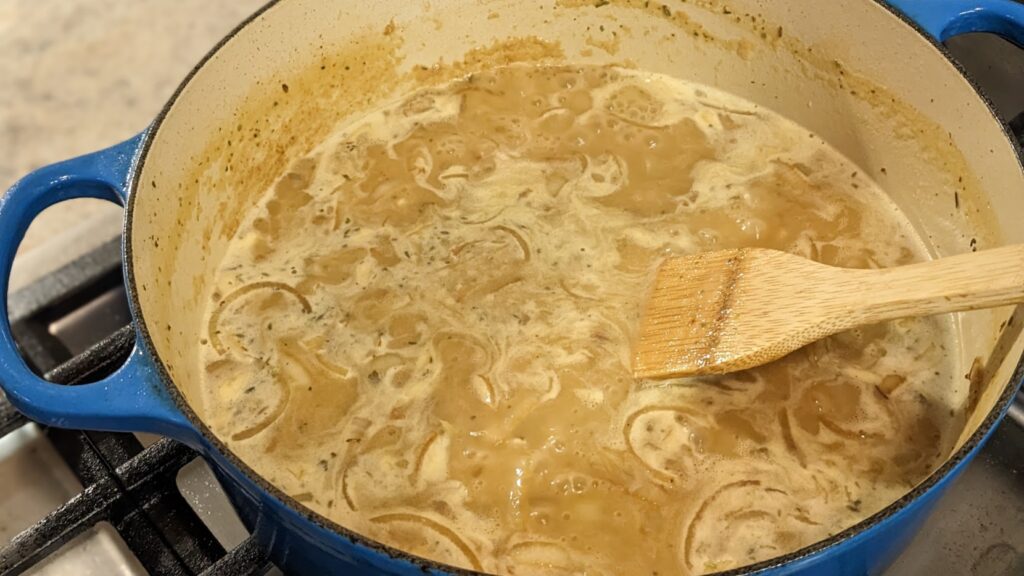 Reduce by a third and then add the stock and bring to a boil then reduce heat to a low simmer.
Add the herb de Provence and stir. If needed add a bit of flour to thicken and a pinch of salt. Put the chops back in the pan and submerge them as well as you can. Cover and let simmer for twenty minutes rotating the chops midway if they can't all fit under the liquid.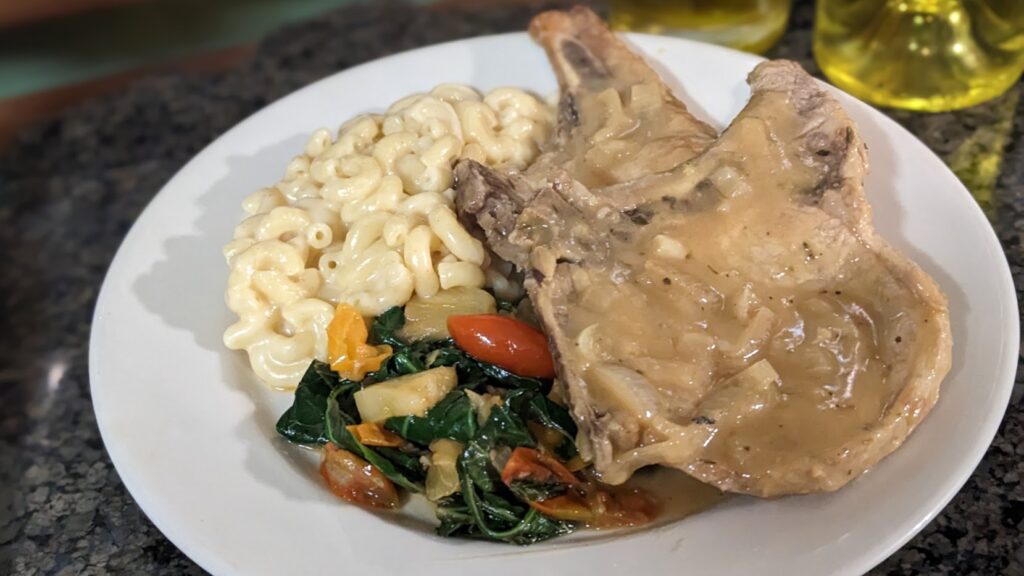 After twenty minutes they should be perfectly done and moist as all get out, but just in case cut into one and be certain. If needed, cook a bit more (but I don't think it will be needed.) Correct for salt and pepper serve.
All sorts of starch and vegetables or fruit combinations will work well as sides here but I'm happy with spicy pineapple collards and sort of but not really labor intensive mac & cheese. They look good on a plate together.
Hope you enjoy.